Dry Eye Treatment
Dry Eye Disease is a chronic problem that can not be cured.  Westbrook Vision Center can help treat your symptoms.
Common Symptoms
One of the most common complaints from patients living here in Peoria, Arizona is dry eyes.  The most common symptoms include:
Stinging, burning or scratchy sensation around your eyes.
Stringy mucus strands and/or crusting in or around your eyes.
Sensitivity to light (photophobia).
Eye redness noted throughout day especially in the mornings and evenings.
A sensation of having something in your eyes.
Difficulty wearing contact lenses all day comfortably.
Difficulty seeing at night.
Watery eyes, (which is the body's response to the above symptoms).
One of the things we try to teach our patients on is that dry eye disease is a chronic problem.  It isn't cured, it is treated.
Options for alleviating symptoms
1.  Conventional treatment includes supplementing the tear film including products like:
Oasis Tears / Oasis Tears Plus – the best preservative-free rewetting drops.
Retaine MGD – Preservative-free rewetting drops with a large amount of oil to replenish the outermost portion of the tear film.
Retaine PM – ophthalmic ointment to be used before bedtime to keep your eyes lubricated all night long.
2.  Punctal Plugs are also a great option for dry eye patients.  Punctal plugs help patients hold on to the tears they make and keep artificial tears on the eye for an extended duration.  Your doctor implants the plugs in to the duct that leads to the back of your throat stopping the drainage of your tears away from the eyes.  The plugs are easy to install and usually cannot be felt once they are in place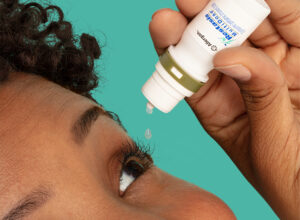 3. Prescription medication for dry eyes are a way to increase tear production.  These include:
Xiidra (Lifitegrast) – reduces inflammation and increases tear production.
Restasis (Cyclosporine Ophthalmic Emulsion 0.05%) also reduces inflammation associated with certain dry eye conditions and increases tear production.
Topical Steroids – reduce inflammation and redness associated with dry eyes.
4.  These treatments for dry eye are to help make for better tears by by treating the Meibomian glands (small glands near the base of your eyelashes responsible for making oil that coats the front surface of your eye and keeps your tears from evaporating).  These include:
Ocusoft Lid Scrubs / Ocusoft Lid Scrubs Plus: kill off 99% of the bacteria, removes pollen and debris from along your eyelids and eyelashes that cause inflammation and irritation.
Oust Demodex Cleanser: made to kill demodex mites which are small creatures that live on your eyelashes and cause inflammation.
Hot compresses / Eye Cozees: Used to heat up the glands along your eyelids to help with the flow of oil from your Meibomian glands.
Nordic Naturals Fortified Fish Oil helps the body to make better tears and protects against age related changes to the retina.
Advanced Treatments
Your eye doctor will probably start with a combination of the above treatment options to help with your dry eye issues.  The newest treatments for dry eye have shown great results for patients suffering from advanced dry eye.
Intense Pulsed Light (IPL) Therapy: 

IPL therapy helps to control inflammation around the eyes and improve gland function which reduces dry eye symptoms.
The IPL helps to break down blockages in the glands. Treatment with IPL stimulates the Meibomian glands and helps them to recover their function.
Most patients note an improvement in the dry eye symptoms after the first treatment.  After subsequent treatments, most patients show continued improvement in dry eye symptoms as well as fewer signs of dry eye seen by doctors.
The procedure is painless and doesn't take a large amount of time.
As a bonus, by treating a deeper layer of the skin, IPL stimulates collagen growth and helps improve the skin's texture, reducing the appearance of fine lines and wrinkles.
Low-Level Light Therapy (LLLT) also known as cold laser therapy is another advanced option for treating dry eye disease.

LLLT helps with the repair of damaged or compromised cells and helps to improve the function of the Meibomian glands.
There is no downtime after the procedure and most patients notice a reduction in their dry eye symptoms immediately afterward.
LLLT therapy is comfortable and no pain is associated with the procedure.
With so many options, what is the best option for you?  The doctors here at Westbrook Vision Center are happy to see you for a dry eye consultation to tailor the best possible therapy for your dry eye needs.
Call or text us at (623)256-0400 to make an appointment!